Welcome to another exciting edition of This Week in Koi, your guide to what happened on the web related to koi fish. Each week I take a look at what people were saying on Twitter and bring you the best of it. Let's take a look at the best content put out on the web in the last seven days.
Twitter user @follow_vien posted this picture of two great-sized koi fish.
@HonestHypocrite visited a place called Wintherthur for a picture of these koi.
The Art of Avant Garde posted a fun photo montage involving a beautiful piece of koi jewelry.
The temperature outside is starting to dip a bit at night and it's not long before those of us in a chilly climate will find our koi ponds covered with ice. Have you checked out our koi winter care tips section of our Koi Raising guide?
Thank you to @MrKimKoi for sharing this picture of Buddha and koi fish.
@Hoanyleee shared this amusing picture of a school of fish other than koi.
Check out Tim Waddington's new article in Koi Carp Magazine.
This Koi owner has a sick koi fish and is looking for help.
Have you ever tried Wordle? You can take your entire website's content and make some really neat-looking word clouds. Check them out. The picture you see below is a visual representation of our Koi Twitter news stream.
Would you like to be featured on Koi Story? Let me know by filling out the contact form on the site. I'd love to share your new blog post, news item or koi picture.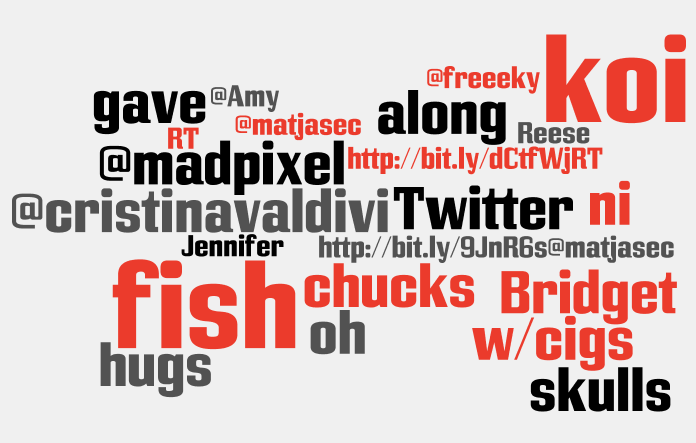 (Word tag cloud courtesy of Wordle.net)